Business Carbon Calculator
Calculate & Balance Your Business Carbon Footprint.

Business Carbon Calculator
With the C Level Business Carbon Calculator you can easily work out the basic elements of the carbon footprint of your business. We like to make it easy. It is geared to smaller businesses who want a quick assessment of carbon impact. We recommend getting in touch with us about our carbon footprint consultancy services that range from simple assesments to full product lifecycle.
We have award winning C Level projects to offset your business immediately. These sequester CO2 in indigenous forests with local communities and all are verified under the global Plan Vivo Standard.
Balance Your Business online and we will generate your individual Carbon Balanced Certification and allocate Plan Vivo Certificates to you on the IHS Markit Registry.  We can arrange a short call to discuss your action on carbon and ways we can more fully support you in the future. 
The C Level Carbon Calculators are currently being transitioned to work through our new Balance API and Carbon Hub. This carbon calculator will be back online shortly.
Thanks for your understanding.
Alex and the dev team.
You can call us on +44 (0)1273 234666 or use the livechat to speak with C Level.

C Level projects are all verified under the global Plan Vivo Standard – the world's original community carbon standard.
% of UK carbon emissions from businesses:
100 businesses account for 71% of global carbon emissions:
Net Zero Targets
The number of businesses committing to Net Zero is growing rapidly.  The B Corp movement is aiming for at least half of all B Corps to declare Net Zero 2030 ahead of the COP in Glasgow. 
How is a carbon footprint calculated?
C Level Carbon Calculators are based on the Greenhouse Gas Protocol Methodology and DEFRA methods and guidance.  They are built around calculating CO2 emissions for scope 1 (direct), scope 2 (indirect) and scope 3 (other indirect) emissions.  We use the latest DEFRA carbon conversion factors.
Use our handy flight carbon calculator if you want to get an idea of basic costs to offset single flights.
We measure carbon footprints in tonnes of carbon dioxide equivalent (tCO2e) which takes into account all of the gases mentioned in the Kyoto Protocol, i.e. Carbon dioxide (CO2), Methane (CH4), Nitrous oxide (N2O), Hydrofluorocarbons (HFCs), Perfluorocarbons (PFCs) and Sulphur hexafluoride (SF6).
What is a carbon footprint in business?
We define business carbon footprint as the total amount of CO2 produced by an organisation during a calendar year. When we carbon balance a business it is usually looking back over the last 12 months.  As consultants we look at scope 1, 2 and 3 emissions and our carbon calculators take into account energy use from gas and electric, travel, transport, commuting, and a host of other scope 3 emissions from the business value chain.  Including scope 3 emissions is important in working towards Net Zero.  So depending on your business, we could be taking into account core business activities of manufacturing and industrial production, as well as staff travel (including flights), plus energy consumption. More detailed audits include things like website hosting emissions, refrigerant emissions, plus indirect emissions such as those caused when transporting goods to your company, or when staff travel in vehicles not owned by yourselves.
What corporate carbon consultancy services do you provide?
C Level has been operating for 20 years as a specialist consultancy service for businesses seeking to offset their carbon footprints on the voluntary market. Contact us now to arrange for a bespoke carbon footprint calculation for all or part of your business, as part of your journey towards Net Zero. Some organisations choose to offset an amount of carbon, for example from flights, while others welcome a deeper analysis of company activities. Examples of bespoke carbon footprint consultancy engagements we are working on at present include the lifecycle of vinyl records, and the lifecycle of wine.  Vinyl and wine, a heady mix for our carbon analysts.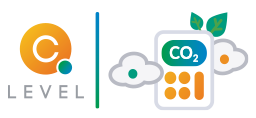 Integrate our calculators into your website or business

ABOUT  C LEVEL
C Level provides you with the best way to offset your carbon footprint – bringing together the natural powers of ecosystems and local communities to take CO2 out of the Earth's atmosphere and bring it down to earth. Credited with coining the term 'carbon footprint' in 2000, C Level works with some of the world's finest reforestation projects – sequestering CO2 via indigenous forests with local communities. These natural climate solutions are verified under the global Plan Vivo Standard, which puts working with communities, on their own land, right at the heart of its work.
C Level gives you the choice of sustainable carbon offsets that compensate for each tonne of CO2 from your business, provide biodiversity benefits and engage local communities in forest restoration and conservation. 
You will receive a personal certificate confirming you have successfully Carbon Balanced your business and the projects you have supported.
CommuniTree, Nicaragua
Inspirational project that has planted over 10 million tree with thousands of people.  Scaled up in recent years to now be the biggest reforestation project in the country, and has recently been selected by both Springer Nature and Microsoft to deliver carbon balancing.
Hadza Hunter Gatherers & Datooga, Tanzania
Winner of the UN Equator Award for Sustainable Development. Protecting forests in the Yaeda Valley, and area the size of Dartmoor, home to a tribe living there for thousands of years, the 'last of the first'.  The Hadza & Datooga are being given full agency to arrest the causes of deforestation and protect biodiversity and their own way of life.
Khasi Hill, Meghalaya, India
Villagers in the 11 Khasi indigenous kingdoms working cooperatively to protect and restore forests and sacred groves.  The first of its kind project in India, reversing deforestation by planting indigenous trees and enabling the forest to naturally regenerate.