Balance My Life
For individuals who want to offset their annual carbon emissions. 

What is the average carbon footprint of a person in the UK?
Average carbon footprints vary widely from country to country. Our best estimate of the UK's average consumption per capita is 8.15 tonnes. To put this in perspective, 1 tonne is the output of a diesel car driving approximately 3730 miles. Or one economy seat on a flight from Paris to New York.
Offsetting your carbon footprint means taking responsibility for the damaging effects of our 21st century lifestyle that have led to the increase in greenhouse gasses in the atmosphere and the climate emergency. The science behind this is fairly simple; for every tonne of carbon released into the atmosphere, the 'offset' is a carefully designed and monitored ecosystem project which absorbs or stores equivalent CO2 to your emissions in order to compensate or balance your life, according to the average emissions for the country you live in.
How does offsetting work and how do I know it meets the highest standards for project design and monitoring?
C Level has been providing this service since 2000. We sell Plan Vivo standard certificates which verify carbon uptake, biodiversity and sustainable livelihood benefits from the Voluntary Emissions Reduction (VERs) market. The certificates are equivalent to one tonne of CO2 and can be referred to as a carbon credit. These are all accounted for on the Markit Environmental Registry. This registry ensures transparency, trust and confidence in the accountability and reporting of carbon credits.
Being Carbon Balanced through C Level's Balance My Life means more than just carbon compensation. Our approach has always been to only work with the world's most holistic carbon offsetting projects. Technology offsets sometimes have very limited broader benefits and are explicitly commercial. We choose to invest in forests and people. Under Plan Vivo, each carbon offset also delivers on biodiversity and sustainable development. More importantly, these are projects owned by local communities. A massive distinction.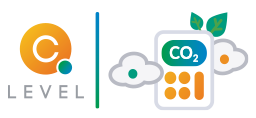 Integrate our calculators into your website or business

ABOUT C LEVEL
C Level provides you with the best way to offset your carbon footprint – bringing together the natural powers of ecosystems and local communities to take CO2 out of the Earth's atmosphere and bring it down to earth. Credited with coining the term 'carbon footprint' in 2000, C Level works with some of the world's finest reforestation projects – sequestering CO2 via indigenous forests with local communities. These natural climate solutions are verified under the global Plan Vivo Standard, which puts working with communities, on their own land, right at the heart of its work.
C Level gives you the choice of sustainable carbon offsets that compensate for each tonne of CO2 from your lifestyle, provide biodiversity benefits and engage local communities in forest restoration and conservation. 
You will receive a personal certificate confirming you have successfully Carbon Balanced your Life and the projects you have supported.
CommuniTree, Nicaragua
Inspirational project that has planted over 10 million tree with thousands of people.  Scaled up in recent years to now be the biggest reforestation project in the country, and has recently been selected by both Springer Nature and Microsoft to deliver carbon balancing.
Hadza Hunter Gatherers & Datooga, Tanzania
Winner of the UN Equator Award for Sustainable Development. Protecting forests in the Yaeda Valley, and area the size of Dartmoor, home to a tribe living there for thousands of years, the 'last of the first'.  The Hadza & Datooga are being given full agency to arrest the causes of deforestation and protect biodiversity and their own way of life.
Khasi Hill, Meghalaya, India
Villagers in the 11 Khasi indigenous kingdoms working cooperatively to protect and restore forests and sacred groves.  The first of its kind project in India, reversing deforestation by planting indigenous trees and enabling the forest to naturally regenerate.