Balance Your Carbon Footprint
For when you know your carbon footprint or you simply want to purchase a set amount of carbon offsets.

Why do you talk about 'carbon balancing' rather than just 'offsetting' and how are your offsets different?
We have worked hard over the last 20 years, since founding our social enterprise, to identify and build relationships with the most effective and holistic carbon offsetting projects in the world. We have spent a lot of time establishing their credibility, transparency and effectiveness.  Some of the projects we have worked with since their very beginning have now planted over 10 million trees.
The essential idea behind our offset schemes is balance.  Carbon Balanced is a term C Level coined and a certification we provide that is very different. It means offsetting through nature based solutions.  Carbon Balanced stands for action on carbon, action on forests, with communities.  Simple tree-planting is a less effective solution than community-led projects where the community has full ownership and agency.  Livelihoods, biodiversity, wellbeing and health are all integral to the carbon offsets that projects also create.
The projects we work with are all designed and verified under the Plan Vivo Standard, run by Scottish Charity, the Plan Vivo Foundation.  This ensures they are designed and verified to the highest standards.
How do you measure the impact of carbon balancing projects? How can I be sure I am having impact when offsetting with C Level?
All projects under C Level's Carbon Balanced programme are designed and verified by the world's original carbon standard, which is called Plan Vivo. Certification systems like Plan Vivo were set up to give credibility to carbon offsetting/balancing schemes and they require projects to meet a set of standards and provide data about impact. This means that everything from project design to impact reporting follows a structured approach as part of Plan Vivo's system.
Payments are made over long periods to communities for the ecosystem services they create or protect. This is key to ensuring that the forest projects under Plan Vivo are uniquely placed to provide long-term security to the forests. Only by creating on-going value to small holder farmers and communities close to forests can their integrity be maintained. Otherwise pressures to cut and clear land of forest are often over riding. 
All projects must achieve additionality – which means they must provide evidence that the project is providing new carbon savings which would not otherwise have been achieved – it's a key part of the standard. Additionality is built into the project design documents (which have to be approved for each project by Plan Vivo). 
Even more practically, C Level aims to add another layer of additionality by funding projects in advance of any project intervention. This enables the project teams on the ground to plan in advance for seed collection, tree nurseries, community recruitment and everything which is needed to create a long-term viable project. So in short, C Level works with  projects that represent the highest achievement in additionality.
How are Plan Vivo projects different to other types of offsetting projects? How are the projects developed with the local community, putting their views and needs at the centre?
Unfortunately, there are some rather poor offsetting projects around – it's difficult to see and understand what the projects are achieving on the ground. So we look closely at every project and try hard to take people right 'under the hood' of a project, connecting them with project through zoom calls, regular C Level Conversations and Views and yearly impact updates. 
Plan Vivo means Living Plan.  Every project has these living plans at the heart of the project.  They are developed through a collaborative process with the local community.  By design, each project has to put local needs at the centre.  It takes time. The local people are involved  from the very beginning and have control over decision making which means that these projects have a truly sustainable future.  You cannot plant trees without ensuring you have a Living Plan or equivalent that ensures people and nature work together and are funded for years and decades to come.  That's what the projects are about.  
CommuniTree, for example, has grown from a phone call and a vision ten years ago to the biggest reforestation programme in the whole of Nicaragua. That is for many important reasons, including the support it receives from C Level customers. But most important is the enthusiasm of and agency given to more and more local communities taking part.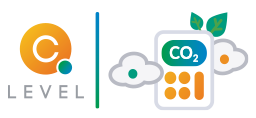 Integrate our calculators into your website or business

ABOUT  C LEVEL
C Level provides you with the best way to offset your carbon footprint – bringing together the natural powers of ecosystems and local communities to take CO2 out of the Earth's atmosphere and bring it down to earth. Credited with coining the term 'carbon footprint' in 2000, C Level works with some of the world's finest reforestation projects – sequestering CO2 via indigenous forests with local communities. These natural climate solutions are verified under the global Plan Vivo Standard, which puts working with communities, on their own land, right at the heart of its work.
C Level gives you the choice of sustainable carbon offsets that compensate for each tonne of CO2, provide biodiversity benefits and engage local communities in forest restoration and conservation.
You will receive a personal Carbon Balanced certificate confirming how much carbon you have offset and the projects you have supported.
CommuniTree, Nicaragua
Inspirational project that has planted over 10 million tree with thousands of people.  Scaled up in recent years to now be the biggest reforestation project in the country, and has recently been selected by both Springer Nature and Microsoft to deliver carbon balancing.
Hadza Hunter Gatherers & Datooga, Tanzania
Winner of the UN Equator Award for Sustainable Development. Protecting forests in the Yaeda Valley, and area the size of Dartmoor, home to a tribe living there for thousands of years, the 'last of the first'.  The Hadza & Datooga are being given full agency to arrest the causes of deforestation and protect biodiversity and their own way of life.
Khasi Hill, Meghalaya, India
Villagers in the 11 Khasi indigenous kingdoms working cooperatively to protect and restore forests and sacred groves.  The first of its kind project in India, reversing deforestation by planting indigenous trees and enabling the forest to naturally regenerate.