Going the extra mile!
Wild Aligned began to take shape in 2019. Responding to clients saying they wanted to do more, to get more involved with our projects, we visioned a new programme, Wild Aligned. Through this, we would connect people to inspiring early-stage projects. The projects would be working to deliver reforestation, but also reconnecting people to the earth in a felt way. We wanted to find projects that would deliver on Biodiversity and Nature Positive, but also offer experiences and deeper connection. The programme would be experiential so as to help Rewild People as well as Place.
Reclaiming 'Wild' to its true meaning. Not something to be avoided or feared, but a natural state of being for humans. A heart felt release into our true nature and a shedding of some of our domestication. So as well as projects providing up lift in biodiversity and more action on climate through reforestation, we broaden how we define the programme. Wild Aligned:
Wild – "living in a state of true nature, not domesticated, not holding onto rigid definitions and opinions
Aligned – "to be in harmony and balance with other"
How would this be achieved? Through projects that:
firstly bring people together
and secondly regenerate land and forests
In short the programme seeks to work with projects that have both ecological and cultural regeneration going on.
We are at the start of building this out, but all our clients are now invited to go the extra mile, mirroring their Carbon Balancing budget by at least 25% into this new programme. The first projects into Wild Aligned were early-stage projects, with inspirational women founders who were bootstrapping their projects forward.
Children's Forest
Children's Forest was a vision back in 2019 when we took Anna the founder to meet one of our clients. She presented to a very full room of management consultants and moved the room deeply as she spoke to her vision of Children planting small forests as permanent venues for local Forest Schools. Anna and her team have been able to move from a vision to a fully fledged organisation that has:
planted 5,000 trees
in 13 Children's Forests
with over 1,000 children taking part.
They are training Children's Forest Facilitators in the deep approach they have developed – a four-stage journey for the children, experiencing, imagining, planting and tending.
EXPERIENCING – Children are given time to be in the woods, connecting to nature through games and simple practices.
IMAGINING – Children are supported to engage their imagination and creativity as they envision a positive future through art, story, song and crafts.
PLANTING – As they plant the trees to create their Children's Forest, the children plant their wishes for a bright future for all life.
TENDING – the trees, and the biodiversity they support, are tended by the children over the years to come, supported by their families and communities.
Seed to Forest Nurseries are being set up and at the heart of every Children's Forest is the Children's Fire. I know this from work with Mac Macartney, Embercombe's founder. You can find out more about the profound indigenous idea of the Children's Fire here.
"No law, no decision, no action of any kind shall be taken that will harm the children of this generation and seven generations hence"
The Children's Fire is a renewed commitment from each successive generation to safeguard the living earth. It is a mindset and a change in culture. A core value that we can take into every human institution and every decision. Practically for each Children's Forest, the fire pit provided a place to relearn how to gather to together, to speak to truth, to what is heartfelt. Now more than ever all of us, not just our Children, need to find a space to hear and 'feel' truth not opinion and information.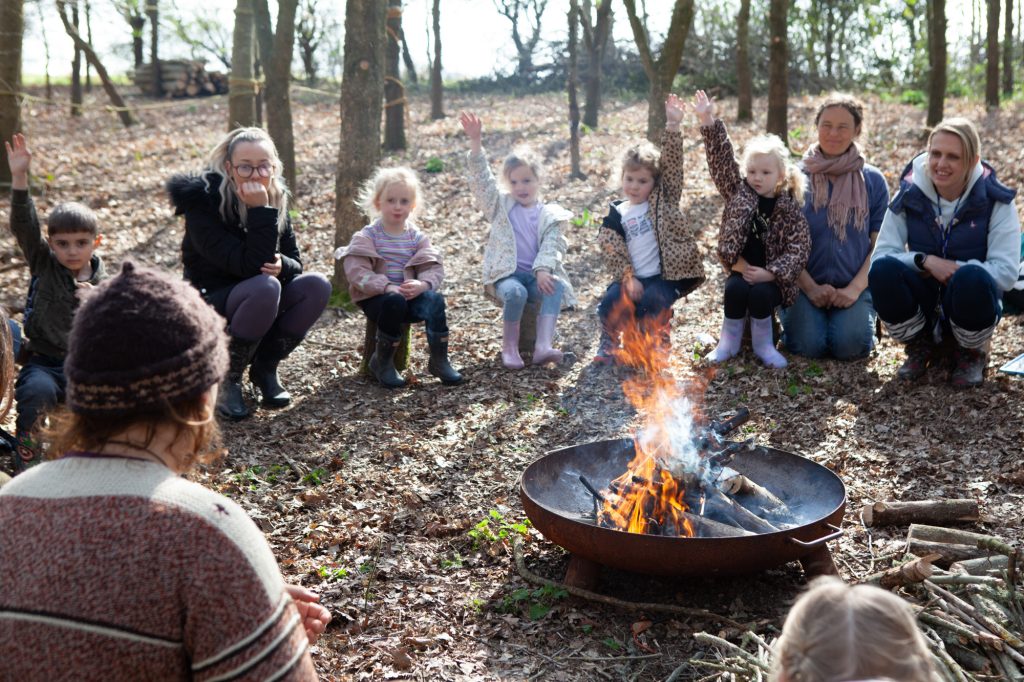 Bio-Estrela
In Portugal, another project is taking shape. Our Wild Aligned programme is supporting Bio-Estrela, an ambitious new project to strengthen livelihoods and biodiversity in the valleys of the Serra da Estrela – Portugal's highest mountain range and largest natural park. The project spans two large valleys on the side of the mountain and covers an area of over 3,000 hectares. It's a bigger project and it offers the potential for businesses to engage at scale through its recent selection as one of eight global pilots for Plan Vivo's new Biodiversity Standard (Plan Vivo Nature).
Bio Estrela is being led by URZE (Associacao Florestal da Encosta da Serra da Estrela), with support from C Level. The team are now facing up to the challenge of recruiting smallholder participants into the project.
Bio-Estrela is situated on the West side of the Estrela mountains, a stunningly wild and beautiful area. It has extra-ordinary resources and knowledge built up over generations. Waterways or Levadas crisscross the valley sides and massive stone works hold back soil in terraces. Most of these are now abandoned, and the area is at a critical turning point. Does the process of abandonment continue? Does subsistence smallholder farming and land knowledge end along with the ageing generation who are currently custodians of the land?
The Bio-Estrela project is part of a movement to build on local knowledge of the land to enhance livelihoods and strengthen biodiversity.
The work of the project is to engage the community of land owners in clearing invasive alien tree species and planting indigenous trees. This regeneration of the land goes hand in hand with reduced fire risk, new enterprise and livelihoods. Bio Estrela can also provide a place that people can visit to experience nature connection. Walking trails are being opened up on the old abandoned trackways that crisscross the mountain. Accommodation is being created, and practitioners are beginning to offer deep dive retreats in nature. Ecological and cultural regeneration are the twin trails in the valleys of the Bio Estrela.
Contact us to learn about how you can go the extra mile with our Wild Aligned Programme and connect with these kind of inspirational projects, including Forests Without Frontiers and Reflorestar Portugal.