Bio-Estrela is an ambitious brand new project to build livelihoods and biodiversity in the valleys of the Serra da Estrela – Portugal's highest mountain range and largest natural park. As one of eight global pilots for Plan Vivo's new Biodiversity Standard (Plan Vivo Nature), the project will produce high-integrity biodiversity credits that represent real, additional and verifiable benefits for biodiversity, but also for people and climate.
C Level Wild Aligned projects are all designed to be experiential combining tree planting with ecological and cultural regeneration.

PARTNERS:
URZE (Associacao Florestal da Encosta da Serra da Estrela), C Level.
PROJECT TYPE:
Biodiversity, Protection & Restoration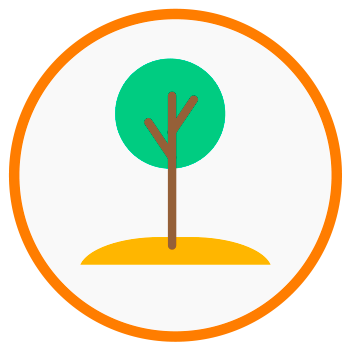 Project area (hectares)
Species:
Chestnut, Oak, Strawberry Tree, Genet, Peregrine Falcon, Goshawk, White Booted Eagle 
Bio-Estrela is situated on the West side of the Estrela mountains, a stunningly wild and beautiful area. It is an area at a critical turning point where subsistence smallholder farming and land knowledge remains in an ageing rural population, but is giving way to rural abandonment. The Bio-Estrela project is part of a movement built on local knowledge of the land to enhance livelihoods and strengthen biodiversity.
Critically, the project aims to help reduce the risk of wildfires which are destroying large areas of the Serra da Estrela Natural Park. In the summer of 2022 around 20% of the Serra da Estrela, was lost to a raging wildfire which burnt for several days.
The work of the project is to engage the community of land owners in clearing invasive alien tree species and planting indigenous trees. Regeneration of the land goes hand in hand with new enterprises and livelihoods.
Portugal has established 70 large designated areas focused on bringing back nature to protect against wildfires. These are referred to as AIGPs (Areas Integradas de Gestão da Paisagem/Integrated Areas for Landscape Management).
The Bio-Estrela pilot is centred on two adjacent AIGPs, Malhao and Sorroco.
This pilot has the potential to expand to the other Estrela AIGPs, or even into the extensive community-owned lands, the Baldios.
Led by URZE (Associacao Florestal da Encosta da Serra da Estrela), the project coordinator, and supporting partner C Level. The team are now recruiting smallholder participants from within two adjoining valleys, covering a total area of 3077 hectares.
RESTORATION: Removing invasive tree species like mimosa and eucalyptus. Restoring abandoned lands or areas affected by forest fires back to native forest. Reduce activities on the land that inhibit natural regeneration.
PROTECTION: Planting native, fire-resistant species in carefully organised mosaics to create natural fire breaks. This will increase species richness and abundance.
IMPROVED MANAGEMENT & MONITORING AND VERIFICATION: Establishing the biodiversity baseline on the land included in Bio-Estrela. This will include both flora and fauna as well as soil biodiversity. Soil cohesion and health and the creation of new habitats are important change indicators.
BIODIVERSITY BENEFIT: Increased biodiversity as conservation areas establish on degraded land, soils improve and new trees provide wildlife habitat.
SOCIOECONOMIC BENEFIT: Existing stakeholders receive an incentive to care for their land and the forest ecosystem. Agro-forestry and land based enterprise opportunities may help change perceptions of farming and encourage younger people in the community to make a future on the land (e.g. eco-tourism, bee keeping, medicinal and aromatic plants and local agroforestry products like Bio-Estrela Olive Oil).
Supporting local smallholders to develop regenerative businesses that support the eco-system (e.g. beekeeping, local produce).
CLIMATE BENEFIT: Soil biodiversity and indigenous tree cover improve carbon sequestration, soil water retention and surface temperatures.

URZE (Associacao Florestal da Encosta da Serra da Estrela) is a non-profit association that has worked in the Estrela for over 20 years. Its focus is on the forests of the Estrela.
URZE plays a role in local and regional development, with the forests and a link between ecology and economy. Practically URZE is an association of members and provides technical advice to enhance forest resources for livelihoods and biodiversity.
As earth's life support systems and biodiversity are collapsing, there is a surge of interest in carbon and biodiversity finance. Plan Vivo was created right at the beginning of the interest in climate change and climate finance. After 25 years in the Voluntary Carbon Market (VCM), Plan Vivo wishes to use its unique holistic approach to help create the world's first biodiversity standard.
This new biodiversity standard is called Plan Vivo Nature (PV Nature). It is set to deliver high-integrity biodiversity certificates/credits that are robust, verifiable, and fairly traded.
PV Nature will be fully aligned with Plan Vivo's core values – ensuring holistic impact, a participatory approach, transparency and equitable benefit sharing for communities. Plan Vivo has collaborated with the International wildlife conservation charity Fauna & Flora International  (FFI), to develop a set of high-level principles for integrity in the emerging biodiversity units market.
If Plan Vivo Nature succeeds, it will create new funding streams for ecosystems and channels for businesses to engage with the nature-positive movement.
The Plan Vivo team are guiding all of the eight PV Nature projects through their development.
C Level has worked solely with Plan Vivo projects for over 20 years. C Level's mission is to work with high integrity business partners to connect them with the world's most holistic and regenerative forest projects.
As an active participant in the development of Plan Vivo Nature, and with a growing Wild Aligned programme focussed on European Regenerative Projects, including projects like Reflorestar Portugal, we saw an opportunity to support URZE and establish a pilot project for PV Nature.
Our Wild Aligned Programme works with early-stage projects to deepen business engagement with ecological and cultural regeneration. Like Plan Vivo, we wish to use our experience of the voluntary carbon market to avoid pitfalls. To ensure that Plan Vivo Nature marks a new evolution in corporate engagement in protecting and restoring the earth's living systems and wild places.
The progress of the pilot will depend on the team on the ground continuing to successfully engage with local communities across the two large mountain valleys. It will also depend on finding a key new partner to fund the pilot project through to the point at which it creates the new high-integrity biodiversity credits. Right now, this is a significant opportunity for a business to play a key part in an exciting global biodiversity initiative.